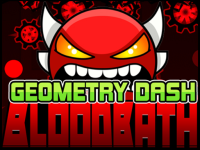 Geometry Dash Bloodbath is an awesome action-horror game in which you will have a new wonderful feeling with the latest version of Geometry Dash!
Instructions
Welcome! Geometry Dash Bloodbath is the hardest game around. This action platformer is based on rhythm and requires you to jump and fly through danger. New levels, music, and monsters are added to the adventure. Be as quick as you can and aware of what's going on around you. You need to tap to jump when you see obstacles. You must be fast and precise. To beat your friends' high scores and lead the board, collect as many coins as you can
Do not forget to check our collection of horror games to find more interesting feelings!