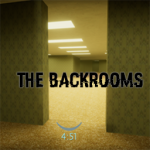 The Backrooms Game is an awesome escape-horror game for thrill-seekers. Never stop running if you don't want to face the scariest monster!
What is The Backrooms Game?
Are you a big fan of horror games? Or do you want to have a fantastic feeling with thrilling games to blow off steam? One of the best choices for you at this time is to play the hottest game: The Backrooms Game. This game is an awesome horror game in which you will become an avid thrill-seeker. Although it's featured with the same theme as other hot horror ones, you have to build a great strategy to control and win. In Backrooms Game online, you will not anticipate any scary monsters or typical jumpscares, and your main goal is to escape from a strange building as soon as you can. Remember that all things in this building are not the same as you think, because everything is set up completely differently here, but the atmosphere is just as foreboding.
How to play Backrooms Game
In The Backrooms Game, your character wanders into a strange place in which there are various strange rooms and corridors. All of them are too old and stale as they are not in use for a long time, and there have been no visitors for ages. To win Backrooms Game online, you need to find out the shortest way to escape from this building thanks to your exceptional brains.
In order to build a great strategy, you need to discover everything in this building first. In this step, you can find an exit. But do not be happy too soon, this is the time you will meet the first challenge. Take a glance everywhere in this room. You will occasionally come upon odd, useless artifacts that are scattered. They play the role of clues for you to solve all tasks, so do not ignore them. Sometimes, you will find some notes, and the question is who wrote them? Maybe it is a great clue, as it was written by the previous one with the same aim as you, but maybe it is a bad strategy by your opponent who wants you to be misled.
It is no longer strange with that horror game featuring special noises. In this game, this noise may spread from a distant corner. Can someone else please come here? If that's the case, this monster doesn't seem to be your ally. As you continue to explore the universe, it becomes increasingly difficult to determine whether certain mysterious events actually occur or are simply in your head. But keep your attention focused; you must leave right away. Make sure your final is not upsetting to you because there are other alternative outcomes.
Key features
Backrooms Game online free is featured with various special rooms. The odd yellowish tint is used in the design of every room. And the stranger you feel, the more you ramble around. There aren't any eye-catching graphics in this place, but the irritating buzz of the lights, the repetitive wallpaper design, and the interminable hallways start to drive you insane. It appears as though you are going in circles. As you move deeper within the abandoned structure, an illusion of scent develops that you can link with the musty old walls and carpets. The players appear to be on the edge themselves. Additionally, it's possible to experience hallucinations in which strange monsters are attempting to capture you from behind. It doesn't just sound unsettling; it actually is. One thing is certain: you won't grow bored while looking for an escape. Even though the plot does not follow the mold of a typical horror film, there are still enough thrills.
Levels in The Backrooms
There are three levels to play in The Backrooms.
Level 0: This region, as depicted in the original photograph of The Backrooms, is often referred to as the "Corridor." It has all the apparent characteristics, including rotting carpeting, yellow walls, and fluorescent lighting. These individuals are referred to as "hunting dogs" and are regarded as hostile and disfigured.
Level 1 in The Backrooms is acquired by leaving the "noclip zone" and continuing to play at Level 0. There will be a significant amount of machinery, as well as the risk of a warehouse filled with fog and standing water. For instance, the lights in the room will flicker and occasionally go out.
Level 2 is the darkest level of The Backrooms. This stage has the appearance of a lengthy tunnel with industrial aesthetics. After completing Level 1, the player can advance to Level 2, which will be significantly more tough to pass. This is the only way out of this predicament. Keep your cool, observe your surroundings, and search for clues that will lead you to safety so you may quickly win The Backrooms.
Rules for success
The Backrooms Game is most suitable for someone who wants to find a thrilling feeling. Although this game features a horror theme and brings you out of reality, it can help you relax efficiently. To win Backrooms Game online, you need to keep your mind cool and focus on the strange things around the building and corridors. Make an effort to find the hints after the notes and clues to find the exit as soon as you can. Sometimes, you may feel uncomfortable because of strange noises and a gloomy atmosphere, but do not be afraid of that. Keep your eye and brain on your goal, and everything will be solved with a click of the mouse.
Similar Escape Games
If you are not satisfied with The Backrooms Game, or you want to find more awesome horror games similar to this one, do not forget to check our hot search:
The Backrooms Kogama: Immerse yourself in the blinking light in the rooms with no windows and try to go home as soon as you can.
The Backrooms Horror: You can become a hero thanks to finding the exit instinctively, passing all the corridors and strange pictures.
Escape Reality: Make an effort to find a way out of a weird place featuring no windows or doors.
Lagueus Escape Chapter 1: Your main goal is to escape from a gloomy and dim room left under a lock with no key.
Lagueus Escape Chapter 2: Great horror game and you need to get out of the elevator and try to take your life is in your own hands.