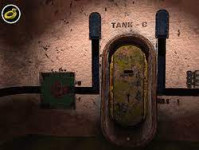 Laqueus Escape: Chapter 4 is another awesome chapter bringing you to a spooky desolate bunker and you need to discover and solve all mysteries here.
Instructions
We're going to embark on a terrifying series of adventures in a barren bunker. You will once more wander into the mysterious tombs that conceal centuries' worth of mysteries in the fourth chapter of Laqueus Escape. But this time, you must complete a different task: discover a way out of the chilly sewers. There are simply rusty walls, dusk, and water nearby. It is quite easy to lose both self-control and rationality in such a spooky environment. But you are not in danger, the calm hero that you are.
Rules for Success Laqueus Escape: Chapter 4
In order to progress through the game, you must put your wit to the test by attempting to unravel all of this place's riddles. Look around carefully first. Look over every square inch of the compartment for anything valuable. For instance, a box of matches will be located on the lower tier next to the doors. Take it and give it a thorough, all-around inspection. There will be a color scheme on the back of the box, and by interpreting it, you can obtain a numbered code. Only the most bright, nimble-witted, and attentive players will be able to overcome the many clever puzzles that this game has prepared for you. We are confident that you will be successful and that you will be able to assist the main character in escaping the mysterious trap and figuring out the reason behind the abandoned bunker. Good luck and enjoy the game!
Check out our other Chapter of Laqueus Escape to relax immediately!