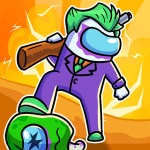 In the action-packed video game Impostors vs Zombies: Survival, the player's objective is to track down and eliminate a horde of zombies.
Instructions for Impostors vs Zombies: Survival
Impostors Vs Zombies: Survival, you will need to wipe out every single one of them, fortify yourself against unending waves, and emerge victorious. Look around for other people who have survived the beasts while you fire them. When you have found your new friend, make sure to include your teammate in your group. You can increase your chances of surviving by recruiting additional people to join your team.
You can improve your preparedness by scavenging for useful items, picking up other survivors, and learning new abilities. They will assist you with their firearms, as well as shoot for themselves.
Related Zombies Games
How to play
Use the WASD keys, Z, X, C keys, and the spacebar.