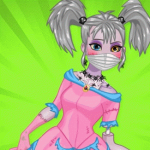 Princess Cute Zombies April Fun is an exciting horror game featuring with weird zombies and lovely princesses and you need to dress up as beautiful zombies.
Instructions for Princess Cute Zombies April Fun
Tired of playing the same old princess games? Then you need some cute zombies to cheer you up! These princesses aren't your typical damsels in distress; instead, they're the ones who make those evil monsters feel bad! They're the kind of princesses we all love and adore: the kind who love pink, drink tea, and are crazy about cats. This game is for you if you're ready to let out your inner zombie and dress up like a princess while attacking those annoying monsters. Let the cuteness out
Are you ready to fight the sweetest zombies ever? Here, you'll be the princess who has to stop cute zombies from taking over her kingdom. As a fashionista, you have a lot of clothes and accessories to use against them. These cute monsters want new clothes and accessories. Your help is needed! Do you want to join the battle? Let's start on this magical trip.
Rules for Success
With a great collection of dresses and hairstyles, you can make your unique outfits and costumes. Don't forget to post them in the comments or share them on social media with your friends. Your comments and words of encouragement can make our free online games for girls a lot more fun. Visit backrooms game to play the best of our cute games. Have fun!