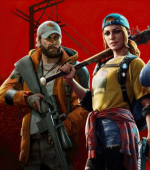 Zombies Shooter Part 2 is an engaging shooting game with a zombie theme that requires you to hit every zombie in order to win!
Instructions
In the shooting video game Zombies Shooter Part 2, you take out zombies on the streets. It carries on from the start. These zombies may be driven out of the city by you!
Features
a zombie-filled new metropolis. There are several new kind of zombies out there. Mutant firemen breathed fire out of their mouths. Amazing mutants are capable of throwing stones. The zombie soccer player has lightning-quick reflexes.
How to play
Mouse = look around
WASD or arrow keys = move
W + Shift = run
Space = jump
Left mouse button = shoot
Right mouse button = aim
Mouse wheel - next / previous weapon
1-7 = weapon hotkeys
R = reload
G = throw a grenade