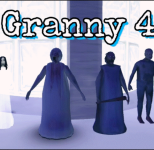 Grandpa & Granny 4 is one of the most exciting Granny game in which you may experience brand-new horror gameplay and attempt to escape from the place!
How to Play
In the fourth part of the Grandpa & Granny 4 online horror game, you will find yourself in brand new terrifying situations. In order to do all of the chores in the game without being detected, you will need to do all in your power to fool grandmother and grandpa while diverting their attention.
You and your companions find yourselves in a variety of perilous environments, and you must search for items that can defend you from these two strange elderly people while avoiding being captured or killed by them. If either of those things happens, the game is over, and you must begin the adventure all over again from the beginning.
Related games