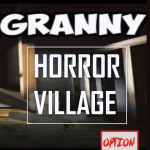 Granny Horror Village is an incredible action game in which, in order to escape, you will need to keep an eye on everything going on around you and do your best to solve hard riddles.
Instructions
Evil Granny Horror Village is a completely new game in which the player is tasked with fending off a terrible Evil Granny who intends for them to perish. You are going to be blown away by the 3D visuals as well as the exciting gameplay. You must
Your bravery will be put to the test as you play through this eerie horror game. Keep your eyes open as you try to escape from the elderly woman so that you may complete the numerous challenging riddles. Enjoy!
How to play
WASD - Move
Space - Jump
Shift - Run