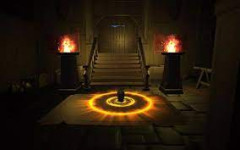 Find all the hidden treasure chests and make your way out of the strange town in Evil Granny: Horror Village, an excellent horror game.
Game Rules
New game Evil Granny Horror Village pits you against a terrifying evil granny out to destroy you. You can only leave Horror Village if you find all the treasure chests. The Evil Scary Grandma Should Be Avoided at All Costs.
Rules
It's scary enough just to explore a deserted village at night. But in this virtual world, you must always be ready for the worst-case scenario. The survival terror in this first-person shooter will put your nerves to the test. Keep your eyes peeled as you flee the elderly woman; you'll need them for a slew of tricky challenges. Enjoy!
How to play
Play using WASD to move,
Arrow Keys or Space Bar to leap,
Shift to run, and E to interact.