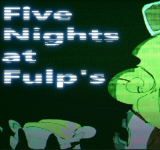 Five Nights at Fulp's is a fantastic FNAF game that was clearly influenced by the original Five Nights at Freddy's and in which the objective is to stay alive for as long as possible!
How to Play
Participate in the spooky survival horror video game Five Nights At Fulp's, in which your objective is to make it through each night while keeping an eye on the surveillance cameras and being cautious around the animatronics.
The Main Chracters:
Stepford - In order to reset the stage, he consistently travels the same route.
Ratz: His movements are erratic; you must pay attention!
Tankman is a dangerous foe since you can never predict where he will strike.
Pico: His gimmick is designed to trap you in an outlet so that he may siphon off your power.
Hank is an expert at evading the gaze of the cameras.
Tomar, in order to prevent him from being angry, you need to gather his emeralds together.
Rules to Success
The mouse gives you the ability to interact with the world around you and manipulate things like cameras, power switches, and sources. Because of this, these frightening individuals will be prevented from entering your control area and murdering you. They are based on the animatronics that can be found in the game Five Nights at Freddy's.
Similar games