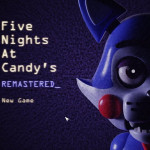 In the brand-new Five Nights at Freddy's Candy game, you must use cunning tactics to keep an eye on all cameras, look over everything, and figure out how to get out.
Instructions
A wonderful horror series called Five Nights at Candy's was created by fans of the Five Nights at Freddy's series. Animatronic characters are controlled by an AI in this horror series. A distinct subgenre was created as a result of the eerie imagery and the tension between dread and fun.
Rules
All you have to do is keep an eye on the cameras to make sure everything is operating as it should. You shouldn't overuse the electronic doors or night vision for safety concerns. You might run out of energy. One other thing: Do not let the adorable robot cats roam freely across your floors.