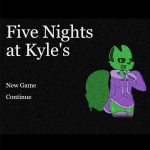 In Five Nights at Kyle's, you must keep an eye on the camera, open and lock doors, and avoid being caught — just like in the original Five Nights at Freddy's!
Game Rules
You can't tell whether Kyle, the green cat, is a male or a girl. You are a security guard at a Hooters restaurant, and he often walks about the premises. Your objective is to stay alive for at least five nights by avoiding detection by searching for cameras and locking doors.
Rules
You'll have to persevere through five nights of terrifying tests. Keep an eye on the surveillance footage and lock all doors to ensure your safety. If you deplete all of your energy, you will become incapacitated.