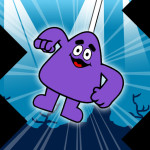 Swing Grimace is a game based on the Grimace character, and the primary purpose of the game is to reach your personal best record on the scoreboard.
Instructions on Swing Grimace
At this moment, the physics-based game Swing Grimace is a lot of fun to play. In order to complete the game in a short amount of time, you will need to direct Grimace along a road that is littered with hazardous spikes. In order to successfully navigate the spike-filled maze, you will also need to master Grimace's rhythmic swings. To celebrate Grimace's birthday in such a fun way is a wonderful idea. The objective of the game is for players to earn a spot in the hall of fame by climbing to the top of the leaderboards.
Main Features
Experience brand new gameplay modes on a consistent basis thanks to recurring events.
Dress up your character with a variety of different accessories.
Embellish your entrance hall.
Are you a fan of action-based strategy games? Why not give the game that brought this kind of gaming to the forefront of popularity, Backrooms Escape 1: You might also enjoy playing Join and Clash 2, which is another game in the same genre. You may get them right now from Backrooms!
How to play
Mouse click or tap to play