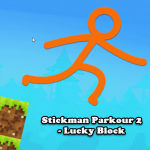 Jump, double-jump, and make your way through 80 stages in Stickman Parkour 2: Lucky Block, a 2D parkour game.
Stickman Parkour 2 - Lucky Block: Instructions
Stickman parkour competition; see how fast you can beat the other stickman in each stage. Getting through may require the use of a lift, scaling barriers, or operating equipment. Compete against an artificially intelligent stickman runner. Don't miss out on the incredible 2D visuals, which evolve constantly across levels.
Top popular Stickman Games
How to play
Movement: A and D or arrow keys
Jump: W or Up arrow key