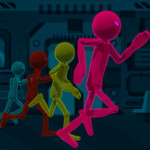 Stickman Escape Parkour is an outstanding action-escape game in which you have to compete in a running race and attempt to overcome all of the obstacles in your way.
Instructions
Stickman Escape Parkour is a competition that is still going on between the Stickman. In order to win the race and go over all of the challenges, you need to exercise control over your Stickman. This room escape game is a fun and interesting task for you and your pals to get to the portal in the shortest amount of time feasible.
In the single-player version of the game, you will be able to finish the course with the Green Runner. There is room for up to 4 players in this game. In the mode with two players, you have the option of using either red or green runners. These monster researchers want to use your character as a subject in one of their horrifying experiments. Do not give them the opportunity to take control of your character.
Other Stickman games
Discover various Stickman games on our site to have fun:
How to play
Player 1: W
Player 2: SPACE
Player 3: M
Player 4: UP ARROW