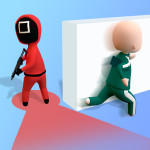 An incredible 3D adventure game, Squidly Game Hide And Seek tasks players with recapturing all of the fugitives over the course of three rounds of play.
Instructions
The Squidly Game: Hide and Seek is a take on the classic game of hide and seek, but with a squid twist.
You have been given the role of the catcher and have three rounds to pick up everyone who has escaped.
Modes
You have the option of joining either the Red Team or the Blue Team.
Find a secure location to hide from the butchers within the next 15 seconds, Blue Team. You will be working with four other people in a team of five people. A squad is considered to be on the Blue Team if it has at least four players surviving after the first three rounds.
In order to locate tourists, you are going to have your identity changed to that of a butcher. You will need to discover a maximum of two tourists in each round in order to win.
Features
Engaging and fun gameplay
Easy to use controls and mechanical components
You may choose between two different characters.
Related Squid games
How to play