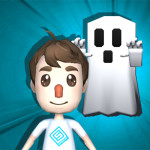 Spooky Escape is an amazing puzzle escape game in which you must have a good response time in order to escape as quickly as you possibly can!
How to Play
Spooky Escape is an adorable ghost who stars in a scary video game called Spooky Escape, which was produced by Jammsworks Inc.
It is required that every character be terrified. You may also strike them in regions that their infrared sensors are unable to detect. Bones must be collected before they can be used in the game store to purchase new skins or other stuff.