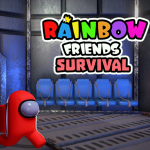 A fantastic game that goes by the name Rainbow Friends: Survival can be found here. Your primary aim is to eliminate all of the characters that are rainbow-colored and are heading in your direction.
Instructions for Rainbow Friends: Survival
The gameplay in Rainbow Friends Survival is straightforward. In each of the levels, you will have to contend with a horde of Rainbow Friends. To protect yourself, you should shoot them.
Main Features
Pull to move, and aim at your foes to crush them.
If you are playing as a human character, you may eliminate zombies with firearms or swords. If you are a zombie, you may also hunt down people and infect them with your disease.
Take on a never-ending variety of obstacles while taking in amazing visuals rendered in 3D.
You may play games both online and offline whenever you choose.
Tips
Move about using the arrow keys on your keyboard, look around with Q and E, fire with the left mouse button, and switch weapons by clicking the wheel, reloading, running, crouching, CTRL, or space. These are the controls that you have available to you.
Get involved in the battle against zombies in Rainbow Friends right now! Players may be certain that they will enjoy themselves to no end while playing this game. You are free to play either online or offline, in any location, at any time. It is at no cost. You should also try out some of the other casual games that Backrooms Game has to offer, such as Nextbot Rainbow Friends and Rainbow Friends: Noob in the Maze.
How to play
WASD - Move

LMB - Shoot
RMB - Aim
Mouse Wheel - Change weapon
R - Reload
Space - Jump
P - Pause