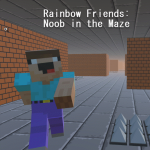 Rainbow Friends and Noob are both represented in the game Rainbow Friends: Noob in the Maze. Your primary mission is to track down all of the concealed cubes so that you may activate the portal that will take you to the next level.
Instructions for Rainbow Friends: Noob in the Maze
Rainbow Friends: Noob You have the ability to both chase and escape in The Maze. It is only necessary for you to assist Noob in reaching the escape and saving his buddies. In order to save Noob from being captured by his foes, you will need to move quickly while avoiding any and all obstacles and traps in your path.
Some features of Rainbow Friends: Noob in the Maze
Pulling allows you to move, and then you can aim to destroy your opponents.
If you are playing the game as a human, you have access to various weapons including rifles and swords to kill zombies. If you are a zombie, you can spread your infection by hunting down humans and killing them.
Experience never-ending gameplay with eye-popping 3D graphics and a wide variety of choices to customise your experience.
Both offline and online games can be played whenever the player chooses.