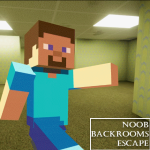 The newest installment in the Backrooms series, known as Noob Backrooms Escape, challenges players to put out their best effort in order to locate the tablet, then make use of it in order to activate the elevator and go to the next level.
Instructions
The new 3D horror-themed Minecraft game, Noob Backrooms Escape, which also has themes of survival and escape, is now available for purchase. You run the risk of becoming lost in a complex network of passageways that you have to make your way through.
To achieve this goal, you must first visit each floor and locate the tablet that activates the elevator. Once you have located it, go to the next level in the game. Move about by using the arrow keys and space to leap. Use shift to run and shift again to change directions.
Related Backrooms games
How to play
Move about using the arrow keys on your keyboard, use spacebar to leap, shift to run, and gaze around with the mouse.