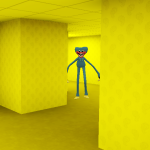 Backrooms: Huggy Wuggy Runner is a fun horror game that combines Backrooms and Poppy Playtime, and you have to keep moving forward to get out.
Instructions for Backrooms: Huggy Wuggy Runner
We now have Backrooms from Poppy Playtime Games, a fantastic horror title. We advise playing this brand-new 3D first-person running game online. You'll experience a high and the best time ever thanks to it!
Using A and D, you can keep moving forward through the offices. You can use the spacebar to hop over obstacles, adjust your course, and avoid them. Use the number keys 1–5 to gain access to special abilities:
Flashlight
Bonus funds
Shield
Speed
jetpack
Don't just concentrate on getting out of the terrible courses; also collect as many coins as you can in order to be able to buy those talents. Enjoy, luck, and stick around for more enjoyment!
Dot not forget to check awesome The Backrooms series for more fun! Backrooms Game and The Backrooms 1998 may be the best choice for thrill-seeker!
How to play
Use the A, D keys and the spacebar, 1 through 5 keys to control this game!