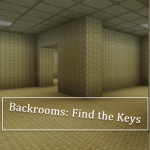 Backrooms: Find the Keys is an intriguing horror game that was inspired by The Backrooms Game that requires you to put out effort in order to locate the key in order to escape.
Instructions
It's the stuff of creepypasta legend. There are infinite rooms filled with neon lighting, worn carpeting, and yellow wallpaper. Unsettling monsters live there, hiding in the hallways. It is therefore an extremely uncomfortable location. There is no way out of this awful situation. You wouldn't want your enemy to suffer this fate.
If you aren't careful and lose yourself in reality, you can find yourself in an unthinkable Backstage. There is nothing there but a steady horrible hum from fluorescent lights, insane yellow, and the smell of rotting damp carpeting. A bizarre Backstage with numerous vacant rooms is another possible location. It's hardly the worst, though. Unlucky travelers could become prey to something lurking around every corner if they explore through infinite rooms or halls. Never be shocked if you turn around and see someone following you. It most certainly heard you if it responded to you.
The game "Backrooms: Find the Keys" will transport you to one of the spookiest and most sad Backrooms. The most unlucky people in this dark place are doomed to an existence of suffering and perpetual wandering. This is a place of suffering and anguish. The devil's trap entraps people by stealing their souls, transforming them into eerie phantoms, and driving them insane.
How to play
Running: WASD

Flashlight: F

Pause: Esc

Sprint: Shift

Interaction: E