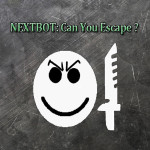 Nextbot: Can You Escape? This is an incredible adventure game in which you have to keep yourself alive for a certain period of time in order to get out from the Nextbot world!
Instructions for Nextbot: Can You Escape?
You have a limited amount of time to make your way out of the Nextbot universe, which you are now stuck in. In order to avoid being attacked by assassins and hide from them, you will need to navigate dungeons that include dark passageways. Because the robot has cornered you in the facility where all of the terrifying things are, you will need to find a means to escape.
Main Features
Through the acquisition of Chaos Crystals, the Evil Nun and other villains may be changed.
Discover the mysteries that are buried in your space.
Each game is unique and varied
Using Horror Pass, you may earn prizes by completing certain assignments.
Make up your own terrifying persona, if you dare!
Unlock new rarities for your weapons.
Emotes and graffiti are two forms of communication that are available.
achieving success in daily, weekly, and seasonal objectives
Have you got the guts to face your anxieties front on? Visit our website while you're here to uncover other games that will test your abilities and keep you on your toes with their nonstop action. Nextbot Rainbow Friends and Backrooms: Nextbot Escape are also excellent options. Avoid holding out. "Let's begin the terror right now!"