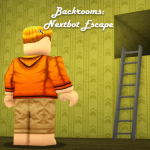 Backrooms: Nextbot Escape is a new game inspired by Backrooms that tasks players with overcoming a variety of challenges and traps in order to make their escape from a future skyscraper that is governed by artificial intelligence.
Instructions for Backrooms: Nextbot Escape
The Nextbots are an entity that may take on a wide variety of forms. Because there are no noises or footsteps, this variation is the most common one, but it also poses the greatest risk because of its difficulty. You have no other option except to improve your strength. As soon as you see him, you should make a beeline for the gate and go on to the next level. You have just one hundred seconds left to escape. The elements of survival and exploration, along with a touch of strategy, come together well in this game.
Some features of Backrooms: Nextbot Escape
Take on a variety of challenging challenges as you go through the game.
You have to get out of the way of a lady who has thoughts of murder.
Sounds and music in the background that are intended to seem eerie
Graphics for a video game that are eerie and immersive
Related Games
How to play
W,A,S,D - Move
Left Shift - Run
Mouse - Look
F - Hide
T - Unhide