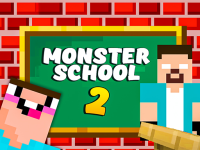 The newest adventure game in the Monster School series is Monster School Challenge 2. To win, you have to do everything Herobrine asks of you.
Instructions
Monster School Challenge 2 is an action-packed game in which you play as a student at Monster School and try to finish the challenges set by Herobrine. You have to complete three challenges: Parkour with Wuggy, Aquapark, and the other one.
Herobrine gave the students at Monster School challenges to help them learn more about Minecraft. The same people who made Noob vs. Pro also made Monster School Challenge 2. It has a roller coaster and a game where you have to flip bottles.
You can meet some of the famous monsters who went to this school. Herobrine will teach you, so you won't need any books. You can take three classes to learn more about how to be a scary beast. Each class will give you a different assignment. Huggie will make you run away from one of the classes while you try to avoid obstacles. The other class will watch to see how long you can keep going. You have to slide down a water slide to get to the finish line. For this last test, you will need a bow and arrows. Your goal is to defeat Herobrine without getting hurt. You can try to finish a lesson with a different character if you can't with one. From the main menu, you can choose which lesson to try.
You may have fun with more game featuring with Monster character. Escape From Blue Monster is a new baby escape game where you have to get rid of Blue Monster and any other things that are in your way. Monsters Attack: Impostor Squad is a fun horror-themed action game where you have to control Slenderman, Huggy Wuggy, and Freddy so they all stay alive.