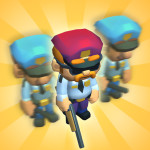 The primary goal of Merge Master Army Clash, an exemplary action game, is to navigate over obstacles, gather soldiers, assemble an army, and thereafter engage in competitive encounters with opposing forces.
Guidelines for Merge Master Army Clash
In order to achieve victory in the Merge Master Army Clash, one must engage in progressively intense combat with adversaries, while concurrently unleashing fireballs as the army expands and advances to higher tiers. This game has the capability to be played immediately in an online setting with other participants. Players have the option to utilize the world chat and faction chats as means of communication with fellow players.
Main Features
Choose from a selection of ten factions.
The game undergoes regular updates, introducing new events and content on a continuous basis.
Engage in real-time interaction and communication with fellow gamers.
If one like this particular game, they may also consider exploring alternative strategy games. I recommend exploring the mobile games Join and Clash 2 and Join Skibidi Clash 3D. Both of these games are exemplary strategy titles that involve the construction and management of a personal kingdom, while engaging in combat with other players.