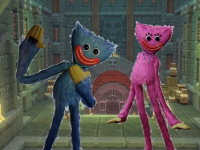 In the intriguing 3D horror game Huggy Rescue Parkour, you must assist Kissy Missy in locating the key and escaping while collecting cash.
Instructions
One of our most thrilling platform adventures is Huggy Rescue Parkour, which blends parkour and escape components. Kissy Missy from Huggy Rescue Parkour is stuck and needs your assistance to escape. She needs your assistance to escape from the clutches of various terrible individuals.
Rules
To release Kissy Missy from her prison cell, you must locate the key. Avoid adversaries, pits, traps, and other hazards as you go. You can leap on the heads of foes to eliminate them.
Check other interesting Huggy games for more fun! Backrooms: Huggy Wuggy Runner blends Backrooms with Poppy Playtime, and the only way out is to keep running forward. In the intriguing horror-themed adventure game Scary Huggy Playtime, you must search for hidden objects and leave the strange house.
How to play
W, A, S, D: stroll
Mouse: scan the area.
Jump in space
Jump twice by using two spaces
pause mouse TAB Zoom in and out as you scroll.