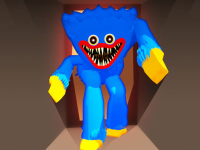 Scary Huggy Playtime is an interesting adventure game with a horror theme and you need to find hidden items and escape from the weird house.
Instructions
You can only use the random button without having to do anything because you have to watch ads if you want to choose between being Huggy or Human. Randomizing the rounds is a good idea because it keeps things interesting and new.
If you're a Human, you can choose an item to turn into, and when you stop moving, you turn into it. After Huggy starts looking for you, you have to stay away from him and watch him with the camera button, because if you get caught, you lose.
If you decide to turn into Huggy Wuggy, you have to go around the area and find all the human children who have hidden different things before time runs out.