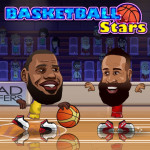 Playing Basketball Stars puts you in a tournament against other players who are showing off their hoops prowess.
Guidelines for Basketball Stars
MadPuffers' Basketball Stars is a terrific two-player basketball video game. The popular basketball video game Basketball Legends has spawned a sequel, Backrooms. It is browser-based and mobile-friendly, so you can play it anywhere. Basketball Stars is the most well-known duel between players. There are also three-pointers, alley-oop dunks, and passes, along with the amazing dunks. Using outstanding jump shots and dash-arounds, you can disrupt your opponent's game plan.
Features
Spend some time shooting hoops with a friend or solo.
You can play in either a tournament or a quick match format.
You can choose to be either the attacker or the defender.
Related Sports Games
How to play
Player One
WASD - Move
B - Shoot/Perform action
S - Pump
V - Super-shot
D twice - Dash
Player Two
Arrow keys - Move
L - Shoot/Perform action
Down Arrow - Pump
K - Super-shot
Left Arrow twice - Dash