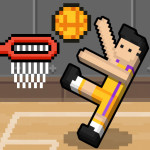 In the popular basketball game known as Basket Random, players compete to see who can get the most points by successfully shooting the ball into the hoop as quickly as possible.
Instructions
The unexpected actions of the stickman basketball players are what make Basket random one of the most exciting aspects of the game. This is entirely unrelated to anything else. You should jump and bounce your way across the court in order to capture your ball or block your opponents. The player who achieves a score of five points first wins.
Mode:
In single-player mode, you will compete against the game's computer. If you want to win this round, you need to make the most of the opportunities you have to put the ball in the basket as often as you possibly can.
Participate in the multiplayer mode with two other players. The winner of the game is the one who can achieve five points in the quickest amount of time.
How to play
Single player mode
Use a "W" key to control.
Two players mode
Player 1: Use the "W" key to control
Player 2: Use the "Up arrow" key to control