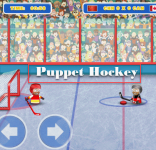 To move on to the next round in the brand-new sport of Puppet Hockey, which requires you to earn more points than your opponent, you need to outscore them.
Instructions
If you hit the puck with sufficient accuracy, you can defend your net without sacrificing your ability to score goals. You may compete against the clock to see who comes out on top in the end. Choose your side, and get ready for the most exciting hockey game you've ever played in your life!
You can control where your character goes on the field by using the arrow keys, and you can fire your weapon by pressing the space bar. The best 16 ice hockey teams from across the world can compete against one another in a game of one-on-one hockey.
How to play
Use the left and right arrow keys to move
Use up arrow key to jump
Use the F key to hit punk