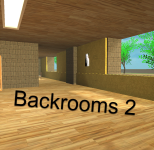 Backrooms 2 is a fun horror escape game in which the player must find the world's most strange, yellow-colored chamber.
How to play Backrooms 2
The moment you win the game, you will be prompted to wake up and use the restroom. It was discovered that he had vanished! It prompts the question: who might utilize your toilet? Such a trophy is unnecessary for even the most despicable and sad thief. Still missing, the toilet has not been located. The home should be the location of the initial search. Next, proceed along the street in your search. It is rather weird that your toilet wound up in a tree in the lawn. The hero will have the ability to tumble through the textures and land in the Backstage. The toilet issue has been resolved, but a new one has arisen! We gotta get out! To exit the Nightmare Portal, you must locate ten anomalies. Anomalies are objects that become stuck in the textures of the game. Place them properly, and you'll be able to return home.
The Backrooms is one of today's most popular games. Backrooms games, such as The Backrooms Kogama and Backrooms: Huggy Wuggy Runner, are incredibly popular and alluring.