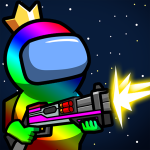 It's a terrific adventure game, and it's called Zombies Royale: Impostor Drive. In it, you have to eliminate more zombies and collect fuel so you can refuel your car.
Instructions for Zombies Royale: Impostor Drive
landily.li is responsible for the development of Zombies Royale Impostor Drive. Your job can be completed very quickly if you simply increase your speed as much as you can and eliminate as many zombies as you possibly can. Steer clear of obstacles, as your automobile won't be able to compete successfully if it sustains too much damage. On the other hand, health packets are scattered across the path. You would be doing really well if you stayed with us the whole day and participated in our fantastic games.
Related Impostor Games
How to play
Move: WASD
Enter/pick up: E
Shoot: eft mouse button