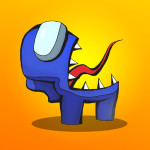 A multiplayer game called Among Impostors combines elements from the game Among Us with those from Impostor.io. Your primary objective is to locate the Impostors and remove them from the game. You may also complete chores that are shown on the map.
Instructions
You have the potential to be a "Crewmate," or you may be a "Imposter." You will need to collaborate with certain members of the team in order to discover and eliminate imposters. It's possible to think about Among Impostor as a survival game, in which you have to get rid of all of the impostors.
By hitting the emergency button or making an announcement about a deceased individual, an active player may also ask for a community meeting to be held. You may utilize the speed shoes, the protective shield, and the imposter bonus to help you acquire the most impostor possible.
How to play
Use mouse or touch pad to play this game.