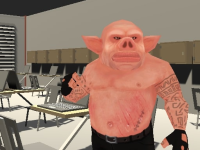 One of the most well-known 3D action games is Surze, in which you must do everything in your power to escape the terrifying monster and save all the kids.
Guidelines for Surze
The buildings and locations we see during the day can vary significantly at night because it is so dark. Even something that seems so easy, like a gym or library, might turn into a nightmare house. If you play even one Surze game online, you won't believe it. The hallways and classrooms of the school have been overtaken by the frightful ghost of a monster. The key that starts the yellow bus is missing from your possession. Find the key for the kids who are hidden in the dimly lit spaces. Stay quiet and in the shadows.
Like other first-person shooters or walking simulators, this game has the same controls. Press W, A, S, and D to move. To explore, use the mouse. Hold Shift, Ctrl, and the beast will soon flee from you. A student hiding in one of these rooms will yell at you if you approach them. If you get closer to them, they'll start to follow you. Find the six kids and get out of here. Don't let these kids perish; you can't leave them behind. The title creates an eerie atmosphere that surrounds you and keeps the tension high. The designers of Surze made the decision to eliminate microtransactions and stay away from intrusive advertisements. Any browser and any device can use it. Don your headphones and turn out the lights for the full experience.
To find more intriguing games like this, go through our selection of scary-horror games. Your objective in the fantastic game Virtual Voodoo is to make a voodoo doll while unwinding and aiming to achieve the highest score. You must escape a terrifying chamber and manage your life at all costs in the excellent escape game Poppy Huggie Escape.
Features
An intriguing and engaging arcade game.
Easy gameplay with simple controls.
The theme of horror.
How to play