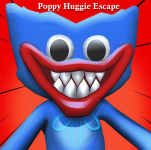 Poppy Huggie Escape is a great horror-themed escape game where you must get out of a scary room and stay alive at all costs.
Instructions
Poppy Huggie Escape is your way out of your worst dreams. You are being chased by a monster that is very scary. Don't look back, you're running out of time. You can run as fast as you want to get away from this nightmare.
This is a dark game that will be hard for you to play. You have to get away from the scary monster in the dark hallways to save your life. In order to do this, you must meet two conditions. The first step is to hit the right number of keys over and over. The second important thing is how well your platform runs. You should run quickly and steadily so that you don't trip over the spikes. You can jump over gaps and stools by pressing the up key. You can slide through tunnels with spikes by pressing the down key. If you have enough keys at the end of each hallway, you can beat the level.
How to play
Use keyboard arrows for jumping and crouching to overcome obstacles. To jump or crouch, touch and drag the screen from mobile and tablet devices.