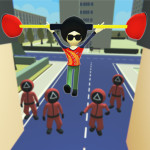 In the fast-paced video game Squid Fall Guy, your objective is to find a means of evacuating the island.
Instructions for Squid Fall Guy
Players will find that Squid Fall Guy is a game that is both exciting and full of exciting action. Meyagames is the company that created Squid Fall Guy. Playing through all 55 levels is a wonderful way to enhance your abilities while also providing you with entertainment. You must avoid colliding with the obstacles that are along the wall, since doing so would result in failure. In addition to this, you may gather stars and use them towards the purchase of new skins or other improvements.
While you hold down the mouse button, your bar will begin to lengthen, and you may then connect the plungers to the ends. The next step is to let go by releasing the button. Your objective is to reach the base unharmed and without losing any body parts. Since the Squid Game has been so popular, I'd love the opportunity to play it once again in Backrooms.
Check other related Squid Games on our site to have fun:
Squid Game: draw various geometric forms (such as a circle, square, or triangle) on the ground, which, when put together, provide the appearance of a squid.
Squid Challenge Glass Bridge: put out your best effort to stay alive while traversing The Glass Bridge.