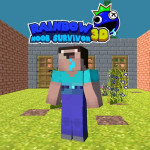 Playing the adventure game Rainbow Noob Survivor is a good method to increase your coin total. By seeing rewarded adverts, you will be able to gain these points and unlock new characters, such as the Noob Pro Hacker and the Noob King.
Rainbow Noob Survivor Instructions
The objective of this game is straightforward. You have a limited amount of time to locate all of the rainbow pals and collect all of the blocks in this level. If you are discovered, you will automatically fail the level and have to start over. Get out of their sight by hiding. It is necessary to locate all of the blocks in order to finish the level.
Related Noob Games
How to play
W A S D or Arrow Keys to walk around
Mouse to Look around
H To Hide
Space to Jump