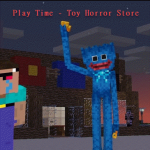 Play Time: Toy Horror Store is an intriguing action-horror game in which the player's objectives include locating objects, rescuing people, and locating and destroying as many Huggy Wuggies as possible.
How to Play
The terrifying video game Play Time: Toy Horror Store will cast you out on your own in the middle of nowhere and drive you to battle for your life. You are surrounded by treacherous Huggy Wuggies that are ready to attack at any moment.
You will locate a large number of cassettes and tapes; thus, you should gather all of them and then view the films to discover clues that might lead you to the narrative and the next step in the game. The game has visuals that are both gorgeous and very realistic. Posters portraying Huggy Wuggy and a variety of other dolls can be seen scattered over the facility.
Related games