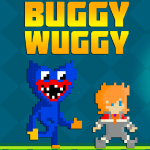 Playground game Buggy Wuggy Wuggy has an intriguing adventure called Playtime in which you must battle every foe by leaping over every barrier.
Instructions
You used to work at the Playtime manufacturing facility. It was the biggest producer of dolls and toys for kids. One day, every employee vanished. Despite their best efforts, the authorities were unable to uncover any information. The factory had been shut down.
A letter from a missing employee is delivered to you. Now you're curious as to what happened to everyone.
To get out of this gloomy area, you'll need to solve several riddles and gather recordings. Don't play with toys that can be used for revenge as well.
The most dreadful creature is Huggy Wuggy. Huge blue doll Huggy Wuggy has a wide smile on his face. He will trample you and follow you around. As you look around, you'll see lots of rooms filled with eerie dolls.
Gather as many cassettes and tapes as you can, watch the videos afterward to locate clues that will help you understand the game's plot and development.
Key Features
Retro-styled, vibrant video game visuals
15 level
Last level's boss adversary
Enjoyable and compelling gameplay
Contains three chapters.
How to play
WASD to move.

Left-click to use the item
TAB to display controls
SPACE to skip the dialogue

Shift to sprint