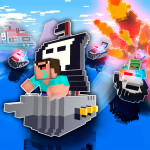 Noob vs Cops is a fast-paced video game in which players must gather points to advance in the game and purchase new weapons and boats.
Instructions for the game Noob vs Cops
Playing as Noob allows you to sidestep the zombie authorities. You can win the game if you navigate your boat through the obstacles in the path and eliminate the zombie police officers who are after you. Don't forget to upgrade and purchase new armaments for your boat so that it may be more powerful while facing threats. This will allow it to better defend itself. The price of each of the 17 boats was used to determine their order, with the most costly boat being the quickest. Take turns using A and D to steer your boat over the waves and acquire chests filled with weapons, boosters, and power-ups as you progress through the game.
Participate in Main Features
Easily Comprehendable Gameplay Mechanisms
Easy-to-Use Controls
There are several difficult levels to complete.
Graphics that are pleasing to the eye
The user-friendly front end interface
Have fun with the free play games.
Related games