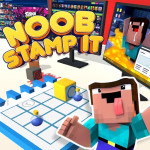 A fun and challenging puzzle game, Noob Stamp It requires players to gather the ink, stamp the checkmark, and go on to the next level.
Instructions for Noob Stamp it
It is a game of skill called Noob Stamp, and your objective is to assist a character from the Minecraft series named noobest in overcoming the numerous challenges that he encounters during the game. To win the game, you will first need to gather the ink bottles, then stamp the board, and finally arrive at the location indicated by the arrow.
Some fetures of Noob Stamp It
Because it is simple to pick up and play as well as comprehend how the game works, it is appropriate for players of varying skill levels and ages. As you go through the game's levels, the game's difficulty will increase, and new obstacles, riddles, and difficulties will be introduced. These tasks will demand you to think creatively and use your creativity.
Top Popular Games with Noob character
Noob Among us Craft: find the faker who is hiding inside the walls.
Noob Backrooms Escape: locate the tablet, then make use of it in order to activate the elevator and go to the next level.
Noob Nightmare Arcade: complete all 32 tasks included inside the nightmare while taking pleasure in the game's pixel art.