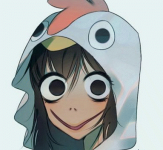 An incredible action horror game, Momo: Horror Story challenges players to stay on their feet and avoid being overpowered by the title character, Momo.
Instructions
Momo The events in Horror Story take place inside of a mansion. The main character is seen at the beginning of the tale sitting at his computer when all of a sudden, a loud noise comes from his phone. This indicates that a scary text message has arrived informing him that his death is drawing near.
Formulas for achieving victory
You may increase the suspense of the game by selecting the full screen mode from the menu.
Related horror games
How to play
Use the W, A, and S keys to go ahead in the game.




Use the left button on your mouse to both attack and move.




To engage in conversation with the many elements of the game, use the E button.