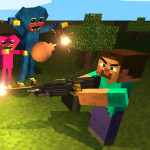 The assault of the Mine Shooter: Huggy's Attack! stars in this brand new action video game. Your primary objective is to amass cash so that you may improve your fighting capabilities by purchasing more potent weapons on the battlefield.
Mine Shooter: Huggy's Attack! Guidelines
In Mine Shooter: Huggy's Attack, it is up to you to stop Huggy from taking over the Minecraft universe! Discover as fast as possible where your adversaries are hiding and eliminate them as soon as you can. The players have to move quickly or they will be at a disadvantage. It offers a pleasant and straightforward 3D setting to explore. Once you sign up for it, you'll immediately understand what all the fuss is about with this game. By gathering the money that your foes drop, you will be able to purchase a variety of upgrades, including explosives, health, weaponry, and more.
You have a selection of foes to fight, including runners, giants, and kamikazes, among others. The money that you take from your foes may be used to purchase upgrades such as explosives, health, and weaponry for your character. You have a selection of adversaries from which to chose, including runners, giants, and kamikaze. The fact that the game can be played with very little effort makes it all the more enjoyable. We really hope that everyone of you gives it a go right away!
Top popular Huggy Games
Scary Huggy Playtime: find hidden items and escape from the weird house.
Backrooms: Huggy Wuggy Runner: keep moving forward to get out.
How to play
PC Control:
WASD: Move
Left mouse button: Shoot
Right Mouse Button: Throw a bomb
R: Reload weapon
Mobile control:
Control the sticks that are located on the left and right of the screen to move and open fire on opponents.