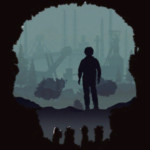 In the brand-new horror game Kuzbass Horror, you must use a brilliant ruse and attempt to decipher the puzzles.
Instructions
In the horror game Kuzbass, you must contend with a crazy witch in order to learn the terrible secrets of a deserted town. The protagonist of this game, Kuzbass, arrived at a foreign settlement after traversing Kuzbass' territory. The majority of the homes were vacant. One home, though, still had a light on. The woman who resided in the home gave the man refuge, and he asked to remain the night. As night struck, strange noises began to be heard within the house. Ultimately, our hero was imprisoned in a witches' home in a cursed hamlet.
The Kuzbass game will assist him in leaving the community and reaching safety because his life is now in danger. The hero must be in your hands as you navigate the scene in search of various objects. Your character's use of these items will enable them to disarm several magical traps. Additionally, the witch who is attempting to find our hero must be avoided. If you encounter witches, stay away from them.
How to play
Arrow keys or WASD = Move
Ctrl = Crouch, E = Pick up something, or Use Mechanism (stealth mode).
Open/Close Inventory on a Tab
Mouse wheel: Choose an item from the available options.
Pause with ESC