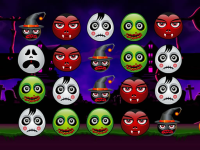 To remove every demon from the board in the great horror game Halloween Evil Blast, you must match 3 or more of the identical creatures.
Instructions
Halloween Evil Blast is a free game that you can play in your browser online. Halloween Evil Blast Online falls under the fun genre. 17 people have played this game, and 12% of them have voted for it.
Rules to Win
Play the interactive game Halloween Evil Blast at no cost online. Do you fear demons or are you one of their victims? With the aid of Halloween Evil Blast, you may eliminate them. Match three or more of the same monsters to eliminate them.
Visit our other websites for extra Halloween fun!
In Mahjong Connect Halloween, you must connect objects like eyeballs, lollipops, and pumpkins in order to succeed.
Pumpkin Monster is a fun action-clicker game where you have to use all your weapons to kick a pumpkin.

It has great Halloween-themed 2D graphics.