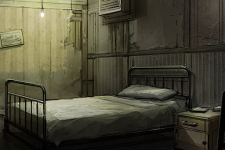 Granny House is one of the best popular escape games inspired by Granny in which you need to make an effort to get out of the horror house as soon as you can!
Instructions
Granny House is seen as the best thrilling and horrifying game and players usually find it hard to run out of the weird house. However, there are some ways to escape it easily! Most of the time, granny shows up 2.50 minutes after the game starts. So, if you want to be sneaky while running, you can hide in the bushes. Make sure to slow the granny down by throwing rocks at her so you can hit her harder.
You have to gather rocks to make this happen. So, here, you have to gather as many stones as you can. Don't forget to use the tower in the stone stage to get out when you have all the pieces. That's usually where the parts and spawn points are.
You have to find the pieces, which can be seen in nearby bushes. Look for three parts. Use the obstacles to hide from granny, and it might make her go slower when you run. Now, think about the tower we told you to think about earlier.
How to play