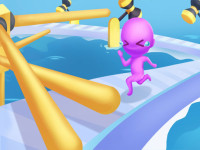 In Fun Race 3D, you can compete in races and guide your character through many challenges. Have fun with your friends right now!
Instructions for the Fun Race 3D
In order to come out on top in Fun Race 3D, you'll need to overcome all of the challenges, like moving block traps and spinning rods. Remember to keep moving forward, and as you're doing so, think about how you can get around the obstacles that are giving you trouble. Keep a level mind and make sure you're familiar with all of the skills. You will advance to the next level if you are one of the top two finishers in the race and if you are tied with them. Don't allow your anxiety get the best of you; stumbling is not the same thing as failing.
Main Features
This logic puzzle game is both entertaining and difficult to play.

Simple manipulations and uncomplicated 3D graphics

Experience a never-ending variety of challenging levels.

There are more than 20 different skins and clothing that can be chosen for your character.
Are you interested in playing more action-packed games that will make you want to physically rip your sleeves off? Both Fall Race 3D and Hammer Raytrace 3D are now available for playing on your personal computer.