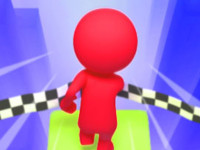 The online version of Fall Race 3D is available for free play. The primary purpose of the game is for you to beat the other stickmen to the finish line in a race.
Instructions for the Fall Race in 3D
The objective of Fall Race 3D is to complete each of the game's maps without dying, while simultaneously maintaining a high rate of speed and avoiding falling into the void. There are a lot of different maps that you have to complete. Remember to collect as many coins as you can so that you can unlock all of the different skins, accessories, and other items in the game!
Main Features
In these difficult races, participants hailing from all corners of the globe vie for the title of champion.
The climactic battle in the ring will be an exciting duel in which your abilities will be put to the ultimate test.
The participant in the race will face a number of challenges in the form of traps and hurdles.
Try out some of the additional action games that are available on this site. You might also try your hand at playing Run Royale Knockout or Streamer Rush!