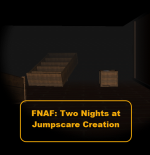 In the intriguing horror game FNAF: Two Nights at Jumpscare Creation, you must assist the main character in getting out of a strange house as quickly as you can!
Instructions
First-person adventure horror game FNAF: Two Nights At Jumpscare Creation. You'll arrive in a dimly lit home with 29 concealed smartphones.
Rules
You are now inside a historic manor. You might be curious about the mansion's enigmatic occupants. This is the well-known animatronics. These men are always looking for a new victim. In FNAF: Two Nights at Jumpscare Creation, you only have 10 minutes to find twenty-nine smartphones, so you'll need to move quickly.
For extra thrills, you can also check out our other scary games. In the wonderful horror game Haunted School, you must locate a school that can house the tools required to exorcise a child demon. You may utilize the Metal Bar power to obliterate, blast apart, and send power in the entertaining action-clicker Kick the Dahmer.